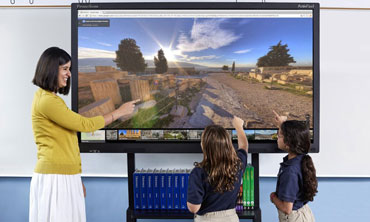 Transforms the front-of-classroom experience by providing brilliant display technology combined with next-generation lesson delivery software – all designed specifically for the classroom.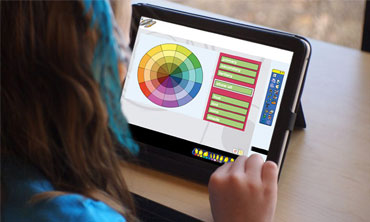 Drives student engagement and brings lessons to life in any classroom technology environment.
Offers a wide range of consultation services to help educators effectively implement immersive technologies that transform learning environments and support student achievement.
ActivPanels & ActivBoard Touch
Features
ActivPanels
ActivBoard Touch
DISPLAY

Available Sizes

65″ 4K, 70″ HD, 75″ 4K, 86″ 4K
78", 88"
INTERACTIVITY

Touch Technology

InGlass Technology
Infrared

Pen and Touch Differentiation

Yes
N/A

Palm/Block Erase

Yes
Dry Erase Surface

Simultaneous Touch Points

Up to 20*
Up to 10
COMPUTING OPTIONS

Android™ Module: ActivConnect OPS-G with pre-loaded software (Instant Whiteboard,
Screen Sharing, App Store, Quick Launcher, Device Management Compatibility)

Included
N/A

Windows® Module: OPS-M for Microsoft ecosystem

Optional
N/A
USABILITY

Easy Access Front Ports

Yes
N/A

Anti-Glare Display

Yes
N/A

Ambient Light Sensor

Yes
N/A

Front-Facing Speakers

Dual, 15-watt*
N/A
CONNECTIVITY

HDMI In

Up to 4*
N/A

HDMI Out

1*
N/A

USB Touch

Up to 4*
N/A

USB 2.0

Up to 3*
1

OPS Slot

1
N/A

LAN

1
N/A

Wi-Fi

Yes (Android Module included)
N/A

Bluetooth

Yes (Android Module included)
N/A
OPERATION

Warranty

3 Years Standard
5 Years Standard

Energy Star® Certified

Yes
N/A
LESSON DELIVERY SOFTWARE

ClassFlow

Included
Included

ActivInspire

Included
Included
ActivPanel Sizes
| | | | | |
| --- | --- | --- | --- | --- |
| Features | ActivPanel 65″ 4K | ActivPanel 70″ HD | ActivPanel 75″ 4K | ActivPanel 86″ 4K |
| DISPLAY | | | | |
| Resolution | 4K UHD (3840 x 2160 px @ 60 Hz) | HD (1920 x 1080 px @ 60 Hz) | 4K UHD (3840 x 2160 px @ 60 Hz) | 4K UHD (3840 x 2160 px @ 60 Hz) |
| Screen Type | Direct LED Backlight | Direct LED Backlight | Direct LED Backlight | Direct LED Backlight |
| INTERACTIVITY | | | | |
| Pen and Touch Differentiation | Yes | Yes | Yes | Yes |
| Palm/Block Erase | Yes | Yes | Yes | Yes |
| Simultaneous Touch Points | Up to 10 | Up to 10 | Up to 10 | Up to 10 |
| COMPUTING OPTIONS | | | | |
| Android™ Module: ActivConnect OPS-G with pre-loaded software (Instant Whiteboard, Screen Sharing, App Store, Quick Launcher, Device Management Compatibility) | Included | Included | Included | Included |
| Windows® Module: OPS-M for Microsoft ecosystem | Optional | Optional | Optional | Optional |
| USABILITY | | | | |
| Easy Access Front Ports | Yes | Yes | Yes | Yes |
| Anti-Glare Display | Yes | Yes | Yes | Yes |
| Ambient Light Sensor | Yes | Yes | Yes | Yes |
| Front-Facing Speakers | Dual, 15-watt | Dual, 15-watt | Dual, 15-watt | Dual, 15-watt |
| CONNECTIVITY | | | | |
| HDMI In | 3 | 3 | 4 | 4 |
| HDMI Out | N/A | N/A | 1 | 1 |
| USB Touch | 3 | 3 | 4 | 4 |
| VGA In | 1 | 1 | 1 | 1 |
| VGA Audio In | 1 | 1 | 1 | 1 |
| Audio Out (3.5 mm) | 1 | 1 | N/A | N/A |
| SPDIF Out | 1 | 1 | 1 | 1 |
| YPbPr | 1 | 1 | N/A | N/A |
| CVBS | 1 | 1 | N/A | N/A |
| Mic In (3.5 mm) | 1 | 1 | 1 | 1 |
| Headphone | 1 | 1 | 1 | 1 |
| USB 2.0 | 3 | 3 | 2 | 2 |
| USB 3.0 | 1 | 1 | 1 | 1 |
| RS232 Serial | 1 | 1 | 1 | 1 |
| OPS Slot | 1 | 1 | 1 | 1 |
| Ethernet In | 1 | 1 | 1 | 1 |
| Ethernet Out | N/A | N/A | 1 | 1 |
| SD Card | 1 | 1 | 1 (Micro) | 1 (Micro) |
| Wi-Fi | Yes (Android Module included) | Yes (Android Module included) | Yes (Android Module included) | Yes (Android Module included) |
| Bluetooth | Yes (Android Module included) | Yes (Android Module included) | Yes (Android Module included) | Yes (Android Module included) |
| OPERATION | | | | |
| Warranty | 5 Years Standard | 5 Years Standard | 5 Years Standard | 5 Years Standard |
| Energy Star® Certified | Yes | Yes | Yes | No |
| LESSON DELIVERY SOFTWARE | | | | |
| ClassFlow | Included | Included | Included | Included |
| ActivInspire | Included | Included | Included | Included |
ActivInspire & Classflow
| | | |
| --- | --- | --- |
| Features | ActivInspire | Classflow |
| Accessibility | | |
| Available Offline | Yes | Y (ClassFlow Desktop) |
| Available Online | No | Yes |
| Presentation Tools for Student Engagement | | |
| Send Text-based Content to Student Devices | Yes | Yes |
| Send Media-rich Content to Student Devices | No | Yes |
| Send Students' Work to Display from Teacher's Mobile Device | No | Yes |
| Instant Polling | Yes | Yes |
| Assessment in Class | Yes | Yes |
| Assessment at Home | No | Yes |
| Instant Whiteboard | Yes | Yes |
| Annotation | Yes | Yes |
| Handwriting Recognition | Yes | Yes (ClassFlow Desktop) |
| Display Multiple Lesson Pages Simultaneously | No | Yes |
| Supports Multi-touch | Yes | Yes |
| Math Tools | Yes | Yes |
| Translucency Slider | Yes | No |
| Resources | | |
| Unlimited Cloud Storage | No | Yes |
| Integration with Cloud Service (Dropbox, Google Drive, OneDrive) | No | Yes |
| Importing Flipcharts | NA | Yes |
| Importing PowerPoint, PDF, Smart Notebook | Yes | Yes |
| Lesson Repository | Yes | Yes |
| Sell/Buy Original Lessons | No | Yes |
| Data Collection Tools | | |
| Saving & Sharing of Instant Whiteboard | Yes | Yes |
| Polling Results | Yes | Yes |
| Assessment Results | Yes | Yes |
| Exporting Results to Excel | Yes | Yes |
| Teacher Management Tools | | |
| Student Grouping within Classes | No | Yes |
| Remote Control of Lessons | No | Yes |
| Teacher Lock for Lessons | Yes | No |
| Student Badging | No | Yes |
| Class Web Page | No | Yes |
| Teacher Posts | No | Yes |
| Student Management Tools | | |
| Student Login | No | Yes |
| Assignments | No | Yes |
| Digital Notebooks | No | Yes |
| Badges | No | Yes |
| Unlimited Cloud Storage | No | Yes |
ActivConnect OPS-G, & ActivConnect G
| | | |
| --- | --- | --- |
| Features | ActivConnect OPS-G | ActivConnect G |
| Interactive Display Compatibility | ActivPanel (included with the ActivPanel 2018 purchase) & ActivPanel i-Series | ActivPanel, ActivPanel i-Series, & ActivBoard Touch |
| Device Type | Open Pluggable Specification (OPS) | External Android Module |
| Operating System | Android 6.0 | Android 5.1 |
| CPU | Realtek RTD1295 (Up to 1.4 GHz) | Rockchip RK3368 (Up to 1.5GHz) |
| Memory | 2 GB DDR4 | 2GB DDR3 |
| Storage | 16 GB EMMC | 16 GB EMMC |
| GPU | ARM Mali T820 (4K @ 60 Hz) | SGX6110 (4K @ 30 Hz) |
| Wi-Fi™ (802.11ac) & Bluetooth™ | Yes | Yes |
| Software | Apps, app store, web browser, whiteboarding, ClassFlow Software | Apps, app store, web browser, whiteboarding, ClassFlow Software |